PROJECTS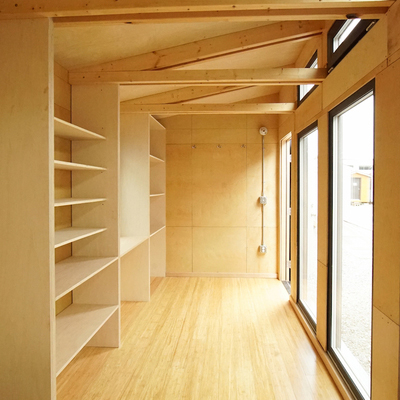 The Parabay Homes
The Parabay Homes are Sawhorse Revolution's first design experiment that allowed two homes to house a larger homeless family. Designed by Barron Peper, the two tiny homes are designed to act as one, with transparency between the two spaces that allow the project to conform to city requirements while still sleeping more people. Built by student ambassadors and community groups, with help from BN Builders, Metis Construction, Heirloom Quality Modern, Aegis Living, and Starbucks, the Parabay Homes hosted over 150 volunteers in their construction.
The structure has landed in Nickelsville Georgetown and become a versatile, functioning family home.
Thanks to generous material donations, the Parabay Homes sport world-class siding from Swiss Pearl, a warm, glowing interior from Edensaw Woods, and passive-grade triple-paned windows thanks to Euroclime LLC. A larger homeless family is now inhabiting these tiny homes.
Thanks to materials donors: Vaproshield, Euroclime Windows, Pacific Sheet Metal, Edensaw Woods LTD, Atlas Construction, and more.